The 451 is correctly used at all locations where an adjustment may remain unchanged for a prolonged period of time. The adjustment stems from different hole spacing of the internal and external slides and is accomplished in around 1mm steps. The controllable adjustment range is 12mm! Both the "quick mounting" feature and the "adjustment controllability" features are Pekabe ideas. Also, the "combination facility" whereby all Pekabe rigging screws and shroud hooks can be inter-combined or used to extend each other!



Specifications

Overall Length: Min. 2- 3/8" or 60mm ~ Max. 2 - 3/4" or 68mm
Weight: 7.1 grams
Single Rigging Screw – Turnbuckle
The single rigging screw with spindle positively secures against loss, with quick lock. The first non-losable rigging turnbuckle with a large take-up range of 18mm! The spindle thread is M2.6 with a pitch of .45mm. By use of the spindle locking nut, the thread length remains the same for quick rigging. The pelican hook base can be swapped out for a #404 double hook or the #401 or #402 shackles. The turnbuckle is well refined, extremely versatile, and attractive!



Specifications

Overall Length: 1 - 3/4" or 44mm fully closed - pin to pin
Overall Length: 2 - 1/2" or 64mm fully open - pin to pin
Weight: 5.8 grams
Double Rigging Screw – Turnbuckle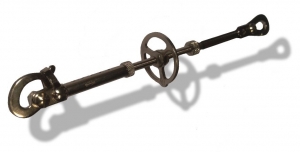 The double rigging screw is equipped with the well-known quick fastening system, which, however, can be replaced by the double flat hook forming part of the delivery. The 488 may be advantageously used as an after stay rigger or as a boom vang because the handwheel assures unusually fine adjustment, one revolution for .9mm.
Link Plates
Punched Strip
The punched strip offers great versatility and stability. It may be cut, bent, and shaped to form various rigging connections.



Specifications

Length: 1- 3/8" or 34mm

Width: 3/16" or 5mm

Weight: 1.3 grams